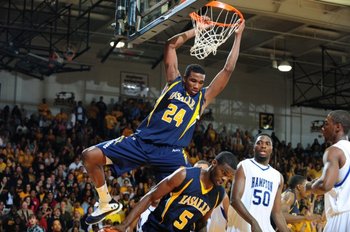 The NCAA Basketball Conferences Preview continue with a trip to the premier Mid-Major conference in the country – the Atlantic 10.  With perennial winners such as Xavier, Dayton and Temple, the always dangerous St. Joseph's and Charlotte, and revived squads such as La Salle, UMass and Saint Louis, the Atlantic 10 is always a competitive league, and this year will be no different.  Today's Part I will look at Charlotte, Dayton, Duquesne, Fordham, George Washington, La Salle, and UMass.  Part II will look at the rest of the conference, including Xavier and Temple.
Part II is now available here.
Charlotte
The Good:  New coach Alan Major starts with a veteran squad, including 3 returning starters in Shamari Spears, Chris Braswell and Derrio Green.  Spears is a beast of a man who does a great job using his strength to overpower defenders in the lane, has good touch around the rim and is an excellent offensive rebounder.  Defensively, he can be a step slow and is usually at a height disadvantage against his assignment, but again uses his strength well to make up for it.  Braswell has star potential, though that is dependent on him continuing to improve as much as he did last season.  He did a good job getting position on the blocks, added a few new moves to his repertoire, and showed the ability to finish strong.  Green is an excellent scorer, though his shot selection is spotty at best.  More of a slasher than a jump shooter, if he can become more consistent from the perimeter, it should open up the court for his teammates.  Transfer Jamar Briscoe is another lethal scorer, though, like Green, more of a slasher than shooter.  It is easy to see from this group, that points should not be hard to come by for the 49ers this season.
The Not-So-Good:  Interior size is an cause of concern – both Spears and Braswell are undersized, and role player Phil Jones is the only player over 6'9 on the roster.  Any foul trouble to these 3 players could cause Charlotte to be severely outplayed on the glass.  Perimeter shooting, as I discussed above, is also a problem facing the 49ers, and the addition of Briscoe doesn't alleviate that.  Look for Coach Major to try and alleviate the shooting issue by letting his guards try to push the ball to take advantage of the finishing ability.
The Question Mark:  Can Briscoe be as effective a point guard as he is a scorer.  With last year's lead guard Dijuan Harris gone, it will be up to Briscoe to facilitate the offense, though Coach Major won't want him to give up too much of his scoring prowess.  It will be up to Briscoe to develop the decision-making skills to recognize who has a better shot, him or his teammates.
What Will March Bring?:  There is some talent here in the starting lineup, though a suspect bench and lack of perimeter shooting may cause the 49ers to lose a few more games than you would expect.  I would expect anywhere from 18-20 wins and a decent chance at the NCAAs with a deep Atlantic 10 tournament run.
Dayton
The Good:  Last season's NIT champions are looking to not only make the NCAA tournament this season, but to win some games while they are there. Coach Brian Gregory's squad is led by forward Chris Wright, who was impressive playing with the US Select team this summer.  Wright is extremely polished playing around the rim, and has become a very efficient scorer when he gets the ball.  Add on to this that Wright is able to guard multiple positions and is a great rebounder, and you have a great foundation to a tournament team.  Joining Wright as a returning starter is junior Chris Johnson.  Johnson is an explosive athlete who never seems to tire.  An improved shooter, he has the ability to score in bunches, though last season he tended to settle for too many jumpers.  Joining the team this season, after sitting out after his transfer from Drake, is point guard Josh Parker.  Parker has the ability to be both a solid distributor and scorer, and he gives the Flyers another dangerous long-range shooter.  Add to this one of the best young coaches in the came in Coach Gregory, and you are looking at a program building for long-term success.
The Not-So-Good:  A major theme when looking at the Atlantic 10 teams is the lack of productive big men, and Dayton is no different.  Devin Searcy will most likely start in the middle for Dayton, though most of the positives you get from him are not found on the stat sheet.  He does a great job using his size to get his teammates open with hard screens, though he doesn't contribute much in the way of scoring or rebounding.  Sophomore Matt Kavanaugh may see more minutes this season, though at this point its not much of an improvement.
The Question Mark:  People have gotten flashes of how good Chris Wright can be, but the major question facing Dayton this season is whether Wright can bring that game night in and night out, especially when he is the focus of the opponent's defense?  The other question facing the Flyers is how to develop star freshman Juwan Staten, who has the ability to be one of the best point guards in the Atlantic 10, though he may not be ready to lead yet
What Will March Bring?:  I would be stunned if this team didn't make the NCAA tournament, and they have the personnel and coaching to make it out of the first round.  If Chris Wright continues to play like he did this summer, he could be a late lottery pick; if not, late first rounder.
Duquesne
The Good:  After a rough few years in Duquesne basketball history, the Ron Everhart era has been a massive turnaround.  Despite the loss of 3rd leading scorer Melquan Bolding (Transfer to FDU), the Dukes are poised to again make a move toward the top of the Atlantic 10 standings. Damian Saunders is back for his senior year and is one of a handful in early discussion for Atlantic 10 Player of the Year.  Saunders is known as a defensive superstar, though if you pay attention, he can be an effective scorer as well.  Saunders also does a great job on the boards and plays a lot bigger than his 6'7.  Joining Saunders as returning starters are point guard Eric Evans and swingman BJ Monteiro.  Evans does a good job setting the tempo for the Dukes' offense, though there is little that is spectacular about his game.  Monteiro showed the ability to score quickly and in many different ways.  Both players need to become more consistent shooters this season to open up space for Saunders.  The best of the Duquesne shooters is senior Bill Clark, who has shown the ability to hit the 3 and to create his own shots in open space.
The Not-So-Good:  The biggest concern for Coach Everhart heading into the season is where production is going to come from outside of the 4 players listed above. Guard Sean Johnson can provide a spark off the bench, but had an inconsistent freshman season last year.  Sophomore Rodrigo Peggau and freshman Derrick Martin will provide support down low.  Another concern is the lack of interior size.  There is no player on the roster taller than 6'9 and none of the big men have any real experience.
The Question Mark:  Does Damian Saunders have enough talent to carry this team to a NCAA Tournament bid?   With a questionable bench and not much height, the returning starters from last season need to all play beyond last year's very good efforts, however, Saunders is the one most capable of breaking out big.
What Will March Bring?:  Ron Everhart does what was unthinkable just a few years ago and the Dukes finish Top 4 in the Atlantic 10 and go to the NCAA tournament.  Saunders has potential first round talent, though I am guessing he is a later first round-early second round pick.
Fordham
The Good:  New coach Tom Pecora left Hofstra to take over a Fordham program which won just 2 games last season.  Two bright spots from last season are back in Brenton Butler and Chris Gaston.  Butler is a good perimeter shooter, though last season saw him forcing shots in order to try and get the team going.  Gaston has good size, though he is playing out of position as a power forward.  Even so, he shows great footwork and nice touch when he is around the rim.  Look for him to play more from the perimeter this season, especially taking the ball strong to the basket.
The Not-So-Good:  Aside from Butler and Gaston, look for Pecora to open up the other starting spots to whoever earns them.  Pecora is essentially starting over and it will take a few years and classes to get this program back on track.
The Question Mark:  How will another 20 or so loss season go over with players who experienced it last season?  While the move to bring Pecora in is extremely positive, he is going to need time to develop his own players and team identity.  Until then, things are going to be rough in the Bronx.
What Will March Bring?:  Triple last years win total – Fordham wins 6 this year.
George Washington
The Good:  Coach Karl Hobbs is looking to improve on last year's 16-15 record, and it least some of the pieces are in place to do just that.  Coming off a freshman season where he was the team's second leading scorer, Lasan Kromah is poised to have an even better season this year.  Kromah is an excellent perimeter shooter, has good size for a guard, and has the ability to put the ball on the floor and go to the rim.  He also uses his length to be a disruptive defender. It would help if he got a bit stronger to help him finish at the rim.  He will be joined in the backcourt by Tony Taylor, an extremely poised, efficient point guard.  Taylor is not a great shooter, but he can find ways to score.  Jabari Edwards is a shot-blocking machine, though he plays limited minutes.  I would be interested in seeing what he can do with more court time.
The Not-So-Good:  Defensively, they are an average team, especially on the perimeter.  On the interior, there is some decent size with Edwards and Joseph Katuka, though neither is very strong and must rely on shot-blocking to stop their opponents.  Offensively, the Colonials are severely lacking in the post, and again, I'm not sure if Edwards or Katuka have what it takes to contribute on the offensive end, and the other options don't get me too excited either.
The Question Mark:  With Damian Hollis gone, will Kromah be able to thrive as the team's primary scoring option?  Kromah has the skills, though I am not sure if the physical maturity is there yet for him to be the main point producer.  Look for Taylor to look to go to basket more to try and make up for Hollis' departed points.
What Will March Bring?:  This is a decent basketball team, but there is just not enough talent to see anything more than another .500 season for GW.  I do say keep an eye on Kromah over the next couple of years as he has the potential to be a very special player.
La Salle
The Good:  Dr. John Giannini lost 3 of his top 4 scorers, but the one who is returning has the potential to be a star.  Aaric Murray has size, strength and the footwork to be a dominant center on both ends of the floor.  As the primary scoring option now, I'm hoping he worked on some new moves over the summer, as defenses will swarm to him.  He will be joined in the frontcourt by senior Jerrell Williams, a tough forward who is quick for his size and does a good job fighting for the ball.  His rebounding ability allows Murray a little more space to operate down on the blocks.  Rutgers transfer Earl Pettis is now eligible and should help stabilize a backcourt which lost leading scorer Rodney Green.  Freshmen guards Tyreek Duren and Cole Stefan also have the ability to contribute immediately.
The Not-So-Good:  Losing 43 points per game between Green, Kimmani Barrett and Yves Mekongo will be tough to overcome immediately.  Some of this could be made up with the return of Ruben Guillandeaux, who received a medical hardship after suffering a stress fracture in November last season.  Guillandeaux is a natural scorer, though time will tell if he regains his form of 2 seasons ago.  The only depth behind Murray in the middle is freshman Matt Lopez who has potential, though he still is a bit raw, especially on the offensive end.
The Question Mark:  How will Aaric Murray respond to being the focus of defense's attention?  Last season, Murray was able to establish himself in large part because defenses had to worry about Green and Barrett.  Now, Murray should see consistent double teams, especially during Atlantic 10 play, where not many teams have players to guard him one-on-one.  If Guillandeaux can regain some of his scoring form from 2 seasons ago, it should take some pressure off, though Murray will need to become more aggressive this season.
What Will March Bring?:  This largely depends on how Murray handles the pressure, but I have a feeling he does and he could average close to a double-double this season.  However, there just isn't enough here to make the NCAA this season, but they could definitely land on the bubble.
Massachusetts
The Good:  Coach Derek Kellogg will be without Ricky Harris, who averaged almost 20 points a game last season, but he has plenty of young players who got some great experience last season.  Terrell Vinson, Freddie Riley, and Javorn Farrell had very good, but inconsistent, freshmen seasons.  Vinson is a do-everything wing who can handle the ball well and is a above-average shooter.  He has the ability to guard multiple positions on defense which makes him extremely valuable.  Riley is the best perimeter shooter on the team, and with a year of experience, should be much better at creating his own shot this season.  Farrell is the best defensive player of the bunch and will most likely draw the toughest assignments this season.  He is extremely active guarding on the perimeter and should do an excellent job creating turnovers.  The team leader is Anthony Gurley, a veteran leader who provides a spark on both ends of the floor, especially on the boards.
The Not-So-Good:  The point guard position is a point of weakness for the Minutemen, with Gary Correia, last season's backup, most-likely taking over the position.  While he does a decent job running the offense, he doesn't offer much in the way of scoring and is just an average defender.  Of course, like most of the conference, the team could use more depth at the center position, with Sean Carter being backed only by senior Hashim Bailey.
The Question Mark:  Does the trio of Vinson, Riley and Farrell keep the momentum going that they had at the end of last season?  If they do, then we are looking at the beginning of a drive towards the top half of the Atlantic 10.  They are a talented trio and should do some excellent things this season.
What Will March Bring?:  Nothing this year, but looking towards 2012, the young talent should have matured enough by then to lead Coach Kellogg to the NCAA Tournament.
Make sure to check back in tomorrow as Part 2 will look at the rest of the Atlantic 10, including Rhode Island, Richmond, St. Joe's, Siant Louis, St. Bonaventure, Temple and Xavier.
Make sure to follow NBADraftBlog on Twitter for all of your NCAA Basketball needs.